Uni-Solar panels are lightweight, flexible and directly adhere to many roofing surfaces avoiding penetrations. Each cell is connected to each other via bypass diodes. Therefore, if one cell is shaded or soiled, only the power output of this one shaded cell is lost – usually less than 4.5%. These panels are less than 1/5th the weight of crystalline solar panels and are designed for membrane and metal roofing system applications.
Here is a video with many examples of how to use flexible solar panels:
---
Don't let the name fool you...
Recycled Goods stocks a variety of NEW flexible solar panels and DIY solar cells, including these leading brands: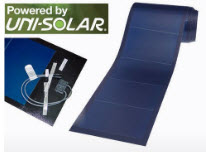 UNI-SOLAR | NANOSOLAR | SOLOPOWER | GLOBAL SOLAR | XUNLIGHT
---

UNI-SOLAR APPLICATIONS AND GENERAL INFO
UNI-SOLAR SOLAR PANEL INSTALLATION MANUALS
UNI-SOLAR SOLAR PANEL SPECS AND DATA SHEETS
If you have questions or need assistance choosing the best flexible solar panels for your application, please visit our contact page or call (805) 648-3300.