Whether you're preparing for the "big one" or a weekend hike, take a look at Global Solar's P3 foldable Portable Power Packs now available at recycledgoods.com
Battery Charging
Camping
Disaster Prep
Foldable, lightweight solar panels that are military strong
Global Solar Energy out of Tucson, Arizona has designed and built lightweight Portable Power Packs (P3s) for the military for years. Having developed the first lightweight foldable solar panels for the United States Marine Corp beginning in 1998, their current designs are a result of continuous interaction and field demonstrations.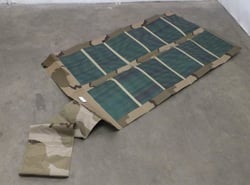 Recycled Goods stocks new Global Solar Portable Power Packs in black, woodland camo, and desert camo.
The panels have been designed for rapid field recharging of 24v or 12v deep cycle/lead-acid, BB390 and BB590 nickel-metal-hydride (NiMH), and BB2590 lithium ion (Li-ion) rechargeable batteries. In 2003, this product line was tested and approved by CECOM (Communications – Electronics Command) and subsequently they deployed over 770 solar panels for recharging the Bren-tronics BB2590 soldier battery pack.
Global Solar's P3's are rugged and durable. They have passed the United States Army's series of standard environmental tests, MIL-STD-810E. To date, there have been over 10,000 P3 modules sold worldwide. With the dependable P3, Global Solar has averaged less than a 1% rate of return per year for all P3 modules sold.
Global Solar P3 Portable Power Packs
Global Solar Specifications
---
Don't let the name fool you...
Recycled Goods stocks a variety of
NEW

flexible solar panels and DIY solar cells, including these leading brands: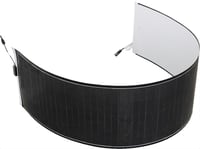 UNI-SOLAR NANOSOLAR SOLOPOWER GLOBAL SOLAR XUNLIGHT
---
We're here to help
If you have questions about foldable, portable solar panels, please visit our contact page or call (805) 648-3300.